After a year of dating reality bad-boy Spencer Matthews is set to tie the knot to model Vogue and you should SEE the ring! WOW!
We've got to take our hat off to model Vogue Williams  as she has done something we never thought was possible – tamed Lothario and reality star, bad boy  Spencer Matthews. The couple announced they got engaged on Thursday 1st February after a year of dating. Huzzah!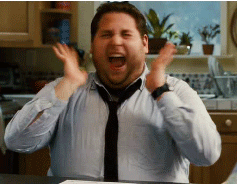 And you won't believe how he did it. No rose petals on the bed and a secluded little spot for these two, oh no! He popped the question on a West End stage.
According to reports the Made In Chelsea star Spencer went down on one knee on stage after a production of The Lion King. The couple took part in a special behind-the-scenes tour of the West End hit show before they took to the stage for the special moment in private, after audiences had emptied out.
Is that cringe or is that cute? We can't decide!
A spokesperson for the couple said, 'The couple are absolutely over the moon and thrilled to share their exciting news.'
READ MORE CELEBRITY NEWS
MORE: OMG! Katie Price's ex reveals he's expecting a baby with THIS former Made In Chelsea star
And it sounds as though 28-year-old Spencer spared no expense for his bride-to-be! Rumour has it that the former Made In Chelsea star splashed out a whopping £150,000 on the dazzling diamond engagement ring – a drop in the ocean given that he's estimated to be worth around £2.8 million.
32-year-old Vogue quickly took to social media to share the happy news. She shared a picture of her showing off the sparkling whopper of a ring.
In the caption, she posted a ring and some heart emojis alongside Spencer's name, writing, "❤️
❤️ @spencermatthews"
Spencer also revealed the exciting news with the same picture, excitedly proclaiming, "SHE SAID YES….❤️"
Reportedly, Spencer Matthew's sweet proposal was inspired by the couple's recent trip to Disneyland Paris.
While they've been together for just over a year, getting together in February 2017 – the pair are clearly smitten.
Spencer played a huge role in the wedding of the year in 2017 when his brother, James Matthews, married the Duchess of Cambridge's sister Pippa Middleton. He stood by brother James' side as his best man while he said his nuptials to Pippa at an intimate ceremony at St. Mark's Church, Englefield.
Spencer rubbed shoulders with royalty as he welcomed Prince William and Prince Harry to the event.
However, Vogue wasn't allowed to attend the star-studded nuptials, given that her relationship with Spencer was so new. Though, it's likely though that we'll see both Pippa and James at Spencer's wedding.
But will some of the other royals turn up too? We'll have to wait and see!
FROM: Woman, our sister site. Written by Amy Hunt.
The post Cringe or cute? Spencer Matthews is engaged to Vogue Williams and you won't BELIEVE where he popped the question! appeared first on CelebsNow.