The GC is desperate to join Strictly
It's been a whole two weeks, but we still can't stop looking at memes of THAT Gemma Collins stage fall at Radio 1's Teen Awards.
The TOWIE star plunged into a trap door as Love Island's Marcel Somerville, Amber Davies and Jamie Jewitt came up to collect the Best TV Show prize, and had to be dragged up by the boys.
Shall we take a look at the epic moment again?
Never gets old, does it? Anyway, after claiming she 'could have died' following her onstage tumble last month, the 36-year-old was seemingly gearing up to SUE the BBC.
READ MORE CELEB NEWS
But now it looks like The GC has a plan up her sleeve, as it's been reported that the CBB star will 'drop her threat of legal action' against the Beeb – but only if they let her take part in Strictly Come Dancing next year.
'Gemma is deadly serious about the Strictly trade off,' a source told The Sun.
MORE: 'All they do is eat': TOWIE's Tommy Mallet MOCKS Gemma Collins over James 'Arg' Argent weight issues
'She has said to BBC that she will not pursue legal action if they give her a slot on the show.'
The insider added: 'She loves Strictly and has always wanted to have a crack at it. She thinks this might be her chance to get on the show.'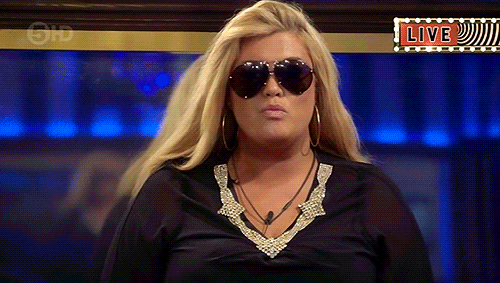 The news comes after Essex Queen Gemma previously revealed she was shaken up by the experience. Talking to The Sun, she confessed: 'I'm in total shock. It is a miracle I am living to tell the tale.
MORE: OMG! Did TOWIE's Gemma Collins just drop a MAJOR hint she's returning to I'm A Celebrity with THIS photo?
'I could have died or at least been disabled at the end of it. I could have been legless. Legless!'
Insisting she was never briefed about the safety issues, the star continued: 'I've got to consult a lawyer, yeah. The BBC, they've not been in touch with any compensation or anything – or even an apology.
'It's very important this gets sorted out because really you know what it is – it's negligence.'
During an interview on This Morning, Gemma also hinted she was looking for some compensation when host Ben Shephard asked her: 'Did the production company contact you? Had they warned you that the hole wasn't marked out?'
She replied: 'I'm not allowed to discuss that at the minute! But all will be forgiven with the BBC if they give me a lot on Strictly next year'.
Despite Gem's claims, a spokeswoman for Radio 1 has insisted that the TOWIE babe was 'fully briefed' beforehand.
'The BBC takes the health and safety of everyone involved very seriously and we are awaiting a full report from Remedy, the production company who made the show, about the incident, but they have told us that Gemma did receive a full briefing before going on stage,' she said.
So, could Gem be holding the glitter ball trophy next year? Oh we hope so…
The post TOWIE's Gemma Collins 'will drop plans to sue BBC' after THAT stage fall — but only if bosses sign her up for Strictly! appeared first on CelebsNow.