A baby bump or just the camera angle?!
We've had the whole 'is she, isn't she' debate enough times to last a flipping life time- and *still* we're no closer to confirmation of whether or not Khloe Kardashian is actually expecting her first child with beau Tristan Thompson.
And, with several hints having been dropped, fans are on the verge of a nervous breakdown waiting for the thumbs up from Khlo K.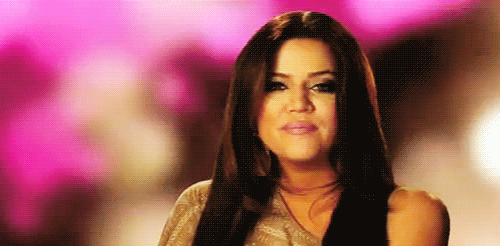 However, in the most recent of updates from Khloe, fans are convinced she may have just revealed her baby bump to Instagram.
Taking to social media, Khlo had shared a snap of herself posing in a tracksuit for promo- which she has captioned 'You guys are going to love our new @goodamerican velour sweats and velvet bodysuits!! You can mix and match colors (I'm obsessed with the burgundy!!)'.
However, as lovely as the lady looks, it's the rumours of her forthcoming child that has got everyone talking- with many fans claiming to be able to see a baby bump…
Comments read messages such as 'I see the baby bump', 'You can see the baby bump!!! Awwww
' and 'baby bump?'. Whadd'ya reckon folks?! Baby bump or just the angle of the pic?!
There have been several time that Khloe has appeared to drop hints regarding her possible expectancy.
Most recently, over Halloween Khloe and Tristan had dressed up as Khaleesi and Khal of Game of Thrones.
See: That's daddy!' Did Khloe Kardashian just CONFIRM her 'pregnancy' with this cryptic Halloween photo?
In one of her snaps shared to her account, Khloe had filmed her boyfriend enjoying the celebrations- which she'd captioned 'that's daddy'.
As expected, this had sparked the interest of many of her fans- with multiple followers claiming this to be confirmation of her pregnancy.
We'd love to hear your thoughts on the baby bump sitch, so tweet us @CelebsNow!
Alice Perry
The post Fans are pretty sure Khloe Kardashian just revealed her baby bump on Instagram appeared first on CelebsNow.