The former footballer lost his mother earlier this year…
They're one of the sweetest celeb couples of the year and now Rio Ferdinand has paid a sweet tribute to TOWIE girlfriend Kate Wright for bringing 'brightness' back into his life.
The adorbs pair have only been dating for a year, but Rio couldn't help but gush about his new lady love in a sweet new Instagram post.
In the post, the former footballing star reflected on his 'tough year', but credited his former reality star GF for helping him and his family move on from the heartbreak.
READ MORE CELEBRITY NEWS HERE
MORE: Rio Ferdinand reveals late wife's dying wish was for him to find love again as he opens up about Kate Wright
Next to a cute snap from a recent trip to Dubai, Rio wrote, 'To say 2017 has been a tough year would be a huge understatement.
'Some dark moments but brightness has been spread around me and mine by this one in many different forms.
'Christmas being just 1 example, all the thoughtful little details that make things that much better for all of us
little throwback pic #visitdubai'
MORE: Oops! Fans mock Rio Ferdinand and Kate Wright's workout video after they notice something VERY awkward

And fans quickly flocked to the post in order to send messages of support to Rio, with many revealing how delighted they were that he'd found happiness after such a tough time.
One wrote, 'U deserve all the happiness in the world legend ❤️
⚪️⚫️', while another commented 'Best wishes to you all , you deserve it x'
Another user also said, ''happy ever after' never hurt nobody ❤️ @rioferdy5 @xkatiewright' 
While a fourth wrote, 'This makes me so happy ❤️'
The former footballer sadly lost his mother earlier this year following a battle with breast cancer. The devastating blow came just two years after he lost wife and mother to his three children Rebecca Ellison from the same disease.
Since Kate and Rio became a couple, the stunning star has thrown herself into family life, ditching her role on TOWIE in order to focus on Rio and his kids.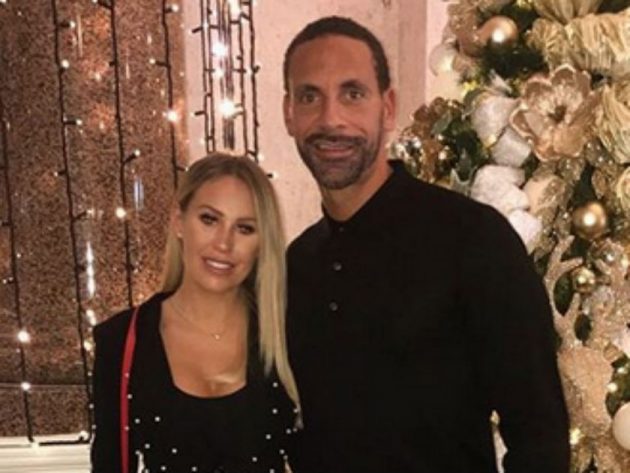 On New Year's Day, 26-year-old Kate also shared a social media snap reflecting on her life-changing year. She made reference to Rio's children – Lorenz, 11, Tate, nine, and Tia, six – saying she had gained '4 of the most precious people'.
In an Instagram post, she wrote, '2017…. the hardest but most rewarding year yet! Ups & downs but I have gained 4 of the most precious people.'
'Happy new year everyone, I hope your year is filled with health & happiness, keep your loved ones close.'
The post 'Brightness has been spread around me' Rio Ferdinand shares ADORABLE tribute to Kate Wright after a 'tough year' appeared first on CelebsNow.