They're packing on the PDAs, but what's really going on?
After a tough eight months apart, all eyes were on Michelle Keegan and Mark Wright as they reunited at the end of last year.
Once they'd finished celebrating the festive season in Essex, the couple jetted off to Mark's new LA home to spend more time together, and marked the occasion by posting a series of rare photos of them packing on the PDA, from kissing to hugging, as they stared into the sunset.
READ MORE CELEB NEWS
READ: 'You're from Essex!' Mark Wright baffles fans by making THIS comment during 'awkward' interview with Hugh Grant
But it seems there was more than meets the eye to their romantic reunion, as Now can reveal Michelle, 30, and Mark, also 30, were actually joined 
by two close pals for most of their trip – even for photos where it seemingly 
looked like they 
were alone.
Mark's friend Anthony Allen and his girlfriend, Michelle's cousin Katie Fearnehough, appeared to be with them to see in the New Year – and posted almost identical snaps to Michelle and Mark, showing them soaking up the sights, most likely as a foursome.
So what's really going on behind their loved-
up snaps?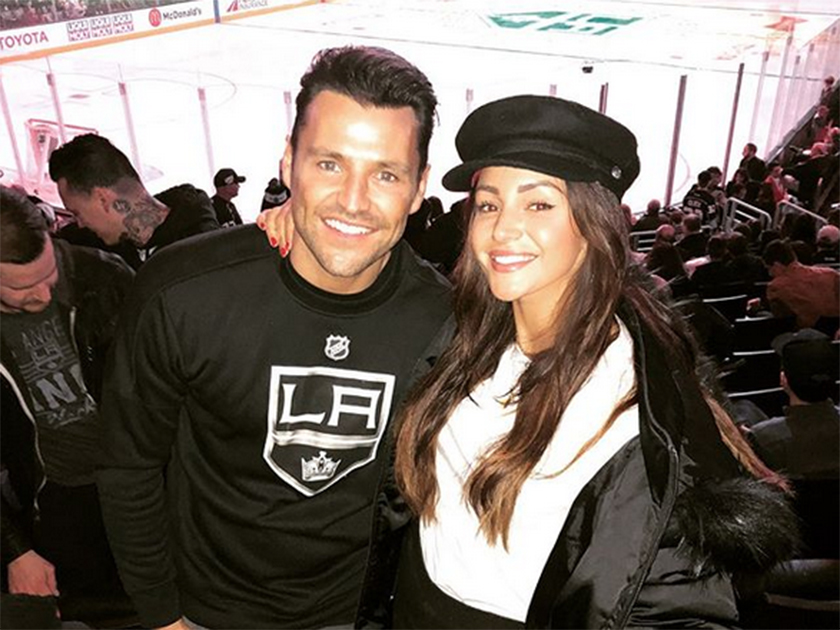 Body-language expert Judi James tells Now, 'Unless Mark and Michelle own the longest selfie-stick in the world, we have to assume that this New Year picture is posed, rather than spontaneous. The intentional message is that absence really has made the hearts grow fonder for this duo.'
It's hardly surprising the 
Our Girl star and her hubby were so keen to show fans they were enjoying each other's company, as they've been dogged with rumours that all is not well in their marriage for months.
Speculation was only heightened when the pair spent most of 2017 on opposite sides of the world due to work commitments, with Mark 
in LA hosting Extra, and Michelle in Malaysia filming.
And their seemingly 
posed photos did the trick 
with fans, who were thrilled 
to see them back together.
'Good to see you guys together for once,' one person commented on one of their photos. 'Finally a pic of them,' another added.
And despite looking slightly staged, there's no doubt, Judi says, that Michelle and Mark look the picture of love in their recent snaps. She continues, 'Their body positions 
look relaxed and intimate, pressed into one another, with Mark's arms encircling Michelle in a way that shows ownership and protection.
'Their facial expressions suggest two different personalities here. Michelle's eyes are communicating with the camera and her raised brows and closed-lip smile seems to signal a shared happiness. Mark is more in romantic-hero mode though, gazing away from 
the camera with a dreamy-eyed expression, while pressing 
his lips into Michelle's hair.'
Judi also explains that it looks as if Michelle and Mark are keen to repeat history, as they haven't posted photos 
like this since the early days of their relationship.
She continues, 'The pair's kiss is a throwback to the days when they first fell in love, when they always looked like the cutest couple on the celebrity circuit. It's a "guppy" kiss, with heads straight, eyes closed and lips extended. It's a style of kissing that is more about tenderness, shared humour and affection, rather than intense sexual passion.'
So while they're still 
as head over heels as ever, 
it looks like they're even more eager to prove it.
The post Are Michelle Keegan and Mark Wright really as loved-up as they seem? appeared first on CelebsNow.